Do Incredible...In Search of Incredible!!!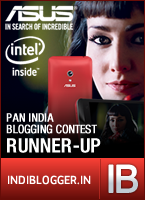 Back 2 Future...
Welcome to
2075
! The newly launched Z 7506, model of the most popular mobile manufacturing company today, has finally arrived in India. It is nothing less than a human being, or any other appliance.
The features are as follows:
A two bread toaster, a step ahead of the 2074 model -D500, a single bread toaster, launched by the company rivals.
An inbuilt MRI and CT scanner. It has been developed by technicians and scientists together, to detect, viruses, infections, pulse, sugar levels and bacterial infection.
The clicking of the camera, and the blinking of the eye shall be synonyms once this model is launched.
It has a 9.0 nanocore processor.
It has a 55 mega pixels camera front and rear camera and 20 mega pixels side camera.
No more hassles with chargers and wires, the G190 inspired model of 2060, worked on solar energy. The Z 7506 uses water to produce the electricity for its functioning.
This makes it super efficient on the battery giving it a 4900 mah battery life.
Its resistant to everything-heat (upto100 degrees celsius) mud, water and is fall proof.
Its portability is much more convenient than the G 190 of the company, launched a decade back- it could be folded up to 2*2*2 cm while this new model can be folded up to 1*0.5*0.75 cm
It has an inbuilt lens case-for both myopia and hypermetropia. The feature wasn't available in its earlier models.
It has quadruple HD display. It has Girrafe 345 touchscreen, which is scratch resistant.
This new model offers a stunning resolution of 2086*1010. The internal memory is very less- only 2TB.
Unfortunately, developers didn't include inbuilt wifi into this revolutionary model. This feature, has now become an integral part of all cells since a year. Hence, the A 980 to be launched in a month by the company's rivals, shall have an upper hand.
Although, the myopic and hypermetric lenses have created many complains from customers; we hope the Z7506 doesn't disappoint us…
Technology has taken a leap over the past 25 years and this is going to be one of the most revolutionary phones… And shall also be the company's best creations…but we look forward to more.
Review By Shahen Pardiwala
19th September 2075
This is what a review would be like of a cell phone that would have created hype in the ever growing mobile market, in 2075!!! At the age of 74, I'd definitely remember that I had once written about some super powers In my mobile in 2014, at the age of 13. I'll check whether the super powers that shall seem to be a camera in the phone in 2014 would be like anything imaginable in 2075…the mobiles, would maybe not exist. A huge field of electronic devices would probably take over!
Coming back to 2014 :
I have a smart phone. It has an excellent camera. However, everyone can see, what I can…the features are a boon. .I can type documents make PPTs; I don't want to bore you by telling you about features in my cell that also are there in yours. In short I am happy with my stuff, but there are always some super powers that I'd love to have in my mobile.
Then, one fine day, something just like lightning struck me from nowhere…
I called upon Mr.Techno_Guy_From_Nowhere. I asked him to install some really lovely things on my cell… he raised his hand and slapped me. He didn't know any market or store that could get such features on my cell. It would need a makeover, which wasn't possible. I pleaded, and he slapped. No humanity, was there in even a single drop of his blood. This went on and on. Finally, he agreed on a condition-he would use my WIFI for a day!
This was quite risky because it would mean lots of data consumption and surprised internet provider. But I wasn't going to change my decision because;
"EK BAAR JO MAINE COMMITMENT KARDI, TO USKE BAAD MAIN APNI BHI NAHI SUNTA"
You may take a break and refer to a Bollywood film, or a hindi dictionary…!!!
Mr.Techno_Guy_From_Nowhere, was damn lazy; all he did was handed over to me something so addictive, and something so attractive- THE ASUS ZENFONE 5 !!!
And now, my previous cell is doing nothing but exercising its first law of motion.
For the starters, I began using the the cell, as if it was my first child, and nothing in the world was of more importance.
It was a dream come true. The stunning 4-inch display left me flabbergasted. The beauty of a flower and the minute details appeared very clearly. Each small thing was easily visible to me. It was only in the afternoon that I was demagnetised, finally; after downloading a number of movies and songs. The movies I had watched earlier and rated 2-star, became my favorites after I watched them on The ZenFone.
After finishing lunch I decided, to take a selfie using my ZenFone. I was sceptical about the quality of the camera and photos. Thanks to my lovely photographic skills I managed to take a proper selfie only after twenty attemts…Looking at the photo I couldn't believe my eyes.
I seemed much more handsome, than I expected myself to be.
I checked if the beauty mode was on…no it wasn't! thanks to it, I noticed a stupid pimple behind my hair, near the forehead that grew at an infinite speed.
I would've never noticed it, due to my hair which almost kissed my eyes…
The first twelve hours with the Zenfone were enthralling. I checked out each application and game. I modified all setting I possibly could.
Looking and observing the high speed processor of the cell I realized I shall never need a phone optimizer or cache cleaner. After a click, I never had to wait. The app opened in a jiffy. I was impressed by the speed of the processor…
As I earlier said, the display was…WOW!!! I'd just keep staring at the display, doing nothing; just devouring the screen.
Eventually, everyone kicked me out to go and cycle. if i'd be kicked even a second later, my eyes would fall out on the couch…I had been staring into the phone morning(almost 12 hours). Although, I was persuaded and I did go for cycling, no one could stop me from taking my ASUS ZenFone 5 with me…
So I put on my gloves and went to cycle. With shoes on the pedals, headphones in my ears and the music on, I cycled until the billions of songs I had downloaded, had been played…then, I decided to take a round without the music banging in my ears…
It was only a minute, since the headphones were out from my ears, that I felt a vibration and my cell began singing…
I attended the call, disconnected and changed the song (all of this with my cycling gloves on!!!). Wow! No more did I have to take off my gloves to attend a call.
I could already see people peeping into my really smartphone! With a wicked and possessive smile, I, really very slowly and stealthily did nothing on my phone…just to get those envious eyes all around me! Then, I did all that, that one would love doing…watch videos, selfies, movies, write documents, read blogs, with better speed, quality and resolution! I now had superman by my side, or rather in my pocket!!! plus, even after a 15 hours, the battery life wasn't exhausted. I yet had a 45% charge remaining, without charging it once in 15 hours!!! Super efficient, isn't it?
I am sure I can see all that; that others can't…with my ASUS ZenFone 5!
I can now realize how old my favourite actors have grown and that-I am not taking appropriate care of my skin.
I could see the emotions and feelings behind each frame…the size being compact, is very portable and easy to hold in my hand.
By taking photos about the reality around us…happiness but also sorrows, development but also inhumanity, memories but also our goals… the clean sparkling shoes but also the dirty sandals, that need cleaning and have been forgotten! My lovely new ASUS ZenFone 5 that has impressed me no end but also my old cell that has been with me since I was 10, that I shouldn't forget ever!
Just by telling me and other thousand Indian bloggers to visualize what I can see, what I want to see and others can't, makes me recognize that its actually what i do not want to see…what I have been avoiding…and that I should learn to recognize and see…
LOOK BEYOND WHAT YOU CAN SEE…!!!
Asus

'

initiative to make people look beyond what they are seeing is very creative… I may have an 8 mega pixels or 16 mega pixels camera with which I take images of my loved one, I edit on the best photo editing site, share it on the most visited social networking site; but I don't see the reality behind the laugh…there is something wrong. s/he wants me to be in the frame with him or her. There may be something troubling him or her…
I'm sure with these super powers, not only I but also everyone can see what I can-if everyone has this super power of seeing beyond what we can see;
By Shahen Pardiwala.